House with the ambiance of a hotel

In 1996 I started to work on a drawing for a 'Hotel house'. Not the house of my dreams in the sence of total luxery, but a perfect house regaring space, arrangement, interaction and light. A house with the ambiance of a hotel, so you always have that holiday feeling ! We live in another house now, which is perfect as well so this house might (n)ever be built.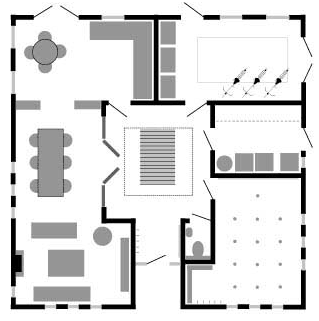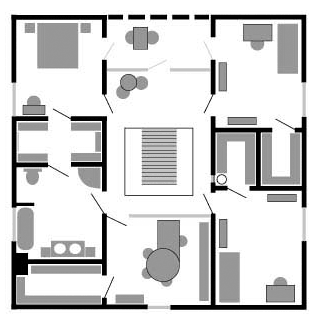 By presenting the floor plan, some flash presentations and lot's of pictures (16x light and 12x setup) I try to explain the thoughts behind chosen setu and design. Click here for the complete construction drawing (110 kb)

Space and light.
In a few short statements I try to explan the starting points for this design:
- Living, dining and kitchen in 3 seperate but open area's.
- The hall can be joined with the living room by opening the big glass folding doors.
- A big spacious hall that provides an immediate view on the stairs and glass wall on the first floor.
- A roof terrace with entrance from three area's.
- A study room, also with a glass wall for lot's of light.
- The inside balcony gives a feeling of being in a hotel: peice, holiday, joy, luxery.
- A laundry chute from the first floor directly into the launcdry basket.
- No attic but practical straight walk in closets for all.
- The walls on the first floor to be continued until roof to emphasize the hight of the house.
- The ridge of the house can be seen when entering, almost 9 meters high.
- All area's have 'normal' sizes and can all be reached from the hall / balcony.
- For some people a recognizable dormer in the front: like in my grandfathers old house in the town centre in Schaijk, where we lived temporarily as well.

The next four presentations provide a good impression of how the above places construction sketches can look like in reality. You need the latest version of the Flash-pluginto watch these properly. You will find the next 4 types: exterior, hall in wireframe, total overview and some combined. All renderings and Flash presentations are created for me by Fu Ho Lee, a respected collegue at Philips Design.
Some of the renderings below are also used in the presentations above. The captions for thse pictures provide more explanation on the selected view.
A little less artistic but very clear are the next 12 renderings. You will get an impression of the exterior, living room, hall, ground floor, stairs and balcony.
If you have any reaction to this design, please Mail me your reaction!