Uganda: Green but dangerous?

Beforehand I did not know what to think about Dominique's idea to go to Uganda for a safari and to do volunteers work. But now we've been there I can say it's a beautifull country, without real problems for the traveller.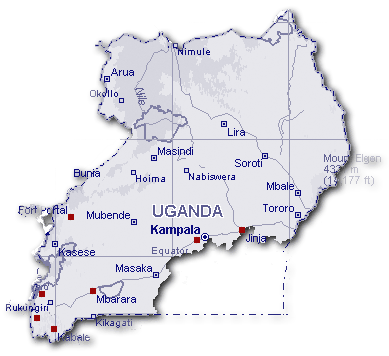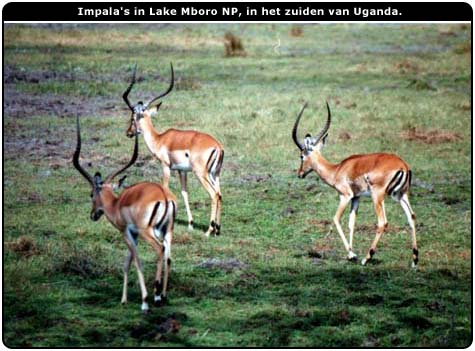 When we decided to go we chose for a 3 week holiday which left only 3 weeks to do volunteers work for Dominique. We booked tickets and arranged to stay at a backpackers hostel, near the orphanage where Dominique was going later. Then we got a chance to buy permits to visit the last mountain gorilla's. This was a chance we had to take (normally you have to book 3 months in advance) Since it's really hard to reach the most southern part of Uganda, where the gorilla's are, we booked a 10 day safari around our permit date en the journey was complete. A day after we arrived in Kampala, we left for the first National Park: Lake Mboro.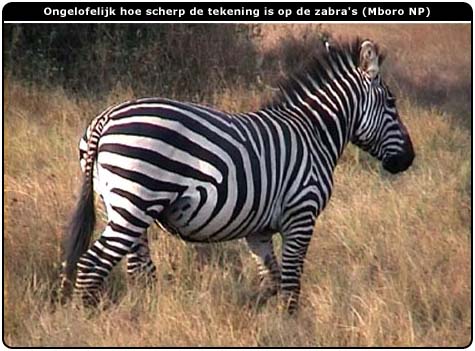 This is the only park in Uganda with zebra's (clever marketing). In this park we also found Hippo's, warthogs, moose, impala's, Uganda kobs, waterboks, topi's, fish eagles, and many other little animals. At night the warthogs and hippo's would graze around our tent. It's hard to sleep that way the first night: you can hear everything.


| | | |
| --- | --- | --- |
| | | The next stop was also the most important one: Bwindi Inpenetratable Forrest. Here there are 300 of the last 600 mountain gorilla's in the world. For $280,- per person (just for the permit) you can visit them vor exactly 60 minutes. This is an investment that's really worth it ! On a day only 6 people per group (3 groups: M, Ha, Hb) can go and find them. We will never forget that on july 19th 2002 it was our turn to visit the Hb group. |

We were lucky that we found them pretty fast (other groups walked/climbed for 4.5 hours.) After some manouvering we had the perfect location. On the left, at only 4 meters, was the silverback (male leader of the group of 9 gorilla's in total). He was accompanied by 2 females and a child. On the right was another female with a baby and all of a sudden another female came right at us, stopped at a 2 meter distance, made a nest and sat down with her back turned to us !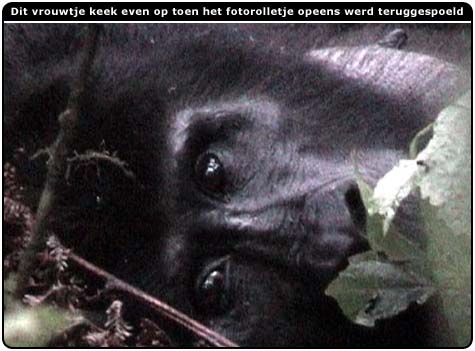 After 59 minutes it's really time to leave. When walking down the little hill, we encountered another female and her toddler. In the end we saw the entire group.

Films of 800-1600 asa are highly recommended, including a good camera with a 300 mm lens. Of couse a stand or a really steady hand are helpfull, but the circumstances are so though that you should count on about 20% of the pictures to be OK. In the end you always have some good ones that remind you of all the others...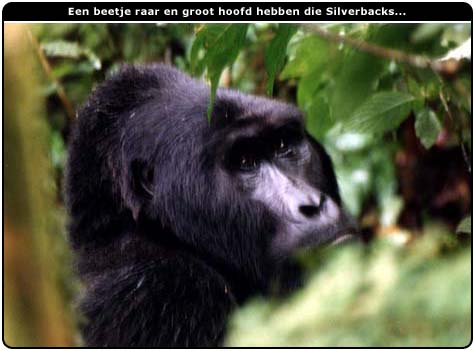 Although the picture above is of a much higher quality than the other ones, it is taken with the exact same camera. That is the luck you need to have in the moment. Beautifull this enormous strange head. Watch a movie of the silverback (336 kb) or the mother and toddler (1.1 mb). You need the Quicktime plugin for this.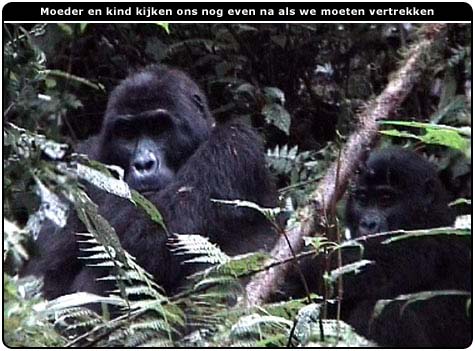 Back in the camp the safari tourguides arranged a dance performance for us. A group of at least 60 orphans danced for us. This was by far the most impressive performance we saw during this holiday. Emotion all over the dancefloor...

This little girl won our hearts. She showed her eagerness to do well, despite all the misery she might have gone through; very enthousiastic and real !

Also on Bushara Island in Lake Bunyonyi (near Kabale) we were treated to some local dance. In a beautifull setting we saw a lot of dancing and jumping. Dominique and Hope tried to join them for one song...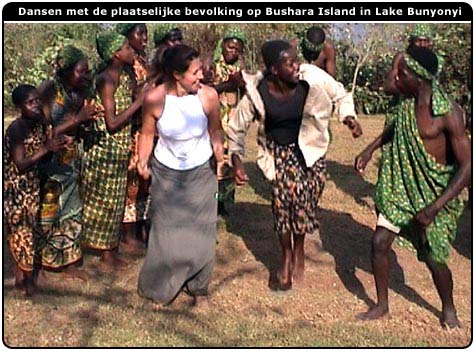 | | | |
| --- | --- | --- |
| | | Longhorns, what a suitable name for these animals. This is one of the best looking ones, but we saw even wider horns, up to about 150 cm. |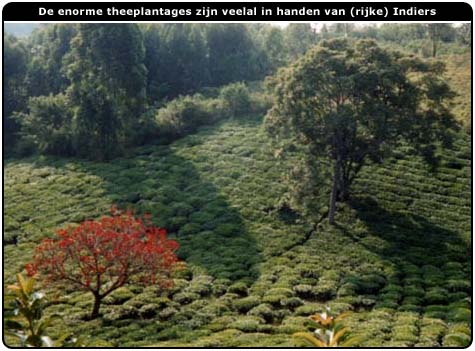 Babana's, sugar cane. coffee and tea are cultivated most. Beautifull look outs we had when driving to the next park with our bus. The tea plantations were in many cases owned by rich Indians.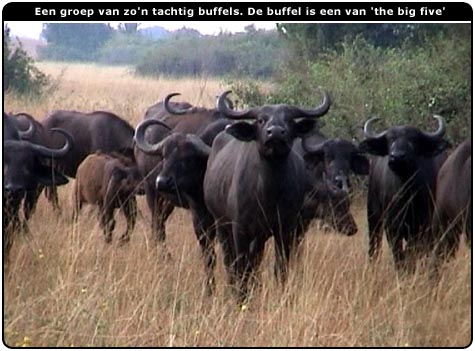 From Lake Bunynyi we continued to Queen Elizabeth National Park. Because there was a lot of rebellian activity in the north we could not visit Murchinson Falls, which made Queen Elisabeth the biggest park we visited.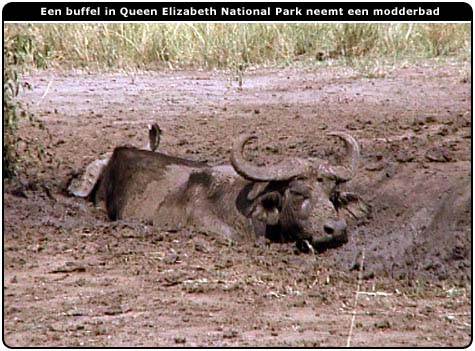 With the video and photo camara stand by we went for a gamedrive directly after we put up the tents. In that very first attempt we saw a lot of different animals already. As you can see below we now completed the 'big five': elephant, lion, leopard, buffalo and rhino. (the leopard we have on video from a great distance and the rhino we saw in Nepal.)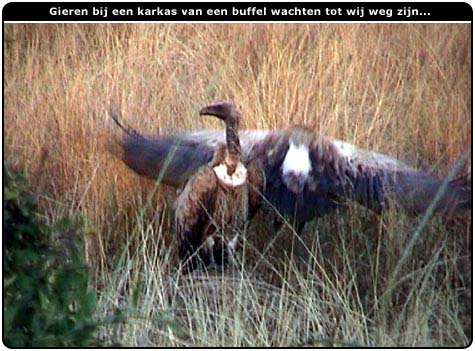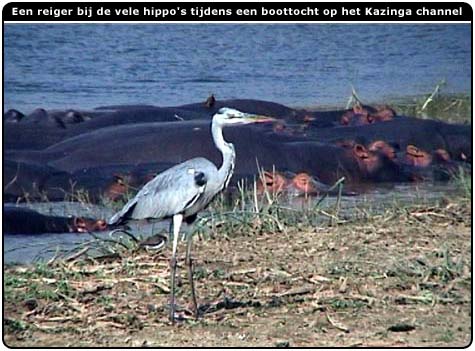 The hippopotamus (hippo), is one of the most dangerous animals. On a yearly basis more people get killed by these than by lions or crocodiles. In this park they have about 4000 of them.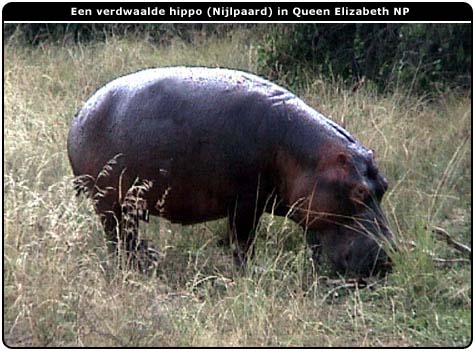 We only saw one lion, and it was a very ol one as well... We spent hours and hours in the bus to find his friends, but this is it...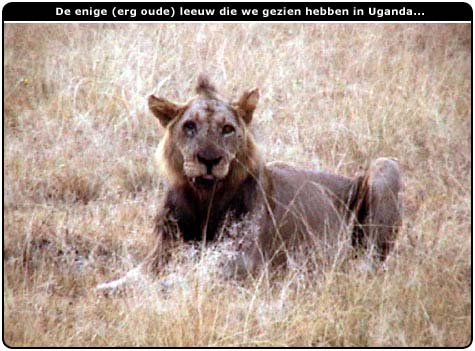 | | | |
| --- | --- | --- |
| | | In the park there are some villages, where the people live from fishing or saltmaking (from crater lakes). The people leave in between, with the animals and for them it is a normal day. Life goes on, also in the 'weekend'. |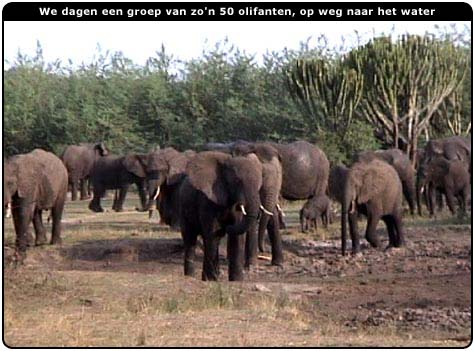 We saw about 50 elephants in one group near the waterside of Lake Albert. Normally they live in groups of about 12 members, but towards the rain season this can rise to 200. In this park there are about 1000 elephants.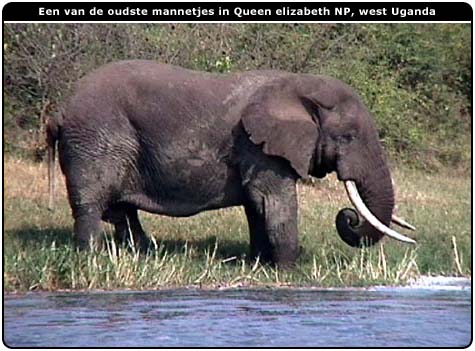 The males (bull's) live separately from the females and children. Above you see one of the oldest gentlemen and on the left a female with her baby: one of the smallest we've seen.

The last park we visited was Kibale Forrest (near Fort Portal) but the chimpansees that are supposed to be found here we only heard, but never saw. That was a long day...
Time to relax after this safari. We camped for some days at Bugali island in Lake Victoria (This is the largest lake in Africa).

We stayed at the Hornbill campsite, with a Dutch owner. On the left you see the strange bird this campsite is named after.


For me it was time to go home, but Dominique stayed for another 3 weeks to work in this orphanage in Kampala. We first visited the place first together; 45 children in the age of 0 to 4 who are abandoned by their parents or are orphaned due to aids. A lot of good work can be done here.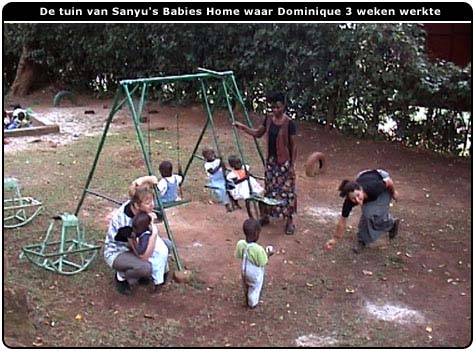 Beforehand I was a bit 'affraid' about this holiday and the working plans, but already on the first day in the city center my opinion turned around completely. The people are very nice and willing to help out. We did not see much misery like poverty, aids, malaria or beggars. There are very few western people in this country with less than 5000 tourists a year. In fact, the impression was about the same as the other countries we visited, although there is no real 'culture' like temples of Maya's or Buddhists. But the gorilla's are a reasons on it's own to go there once.

< Maya Route - Japan >